MLF Chapter & Verse
The Manchester Literature Festival Blog
Review: Cathy Newman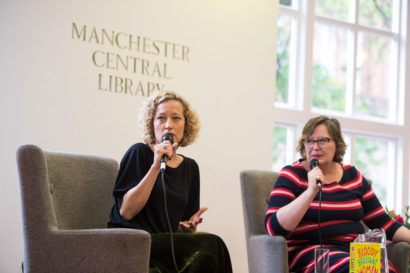 Our Young Digital Reporter, Maygen Senior, finds Cathy Newman inspiring.
Cathy Newman's book, Bloody Brilliant Women, tells the stories, plights and profound achievements of many women throughout history who are lesser known, whilst also highlighting the lives of more renowned historical figures. The book is a homage to the women that have shaped our nation, and yet have been forgotten along the way.
Alex Clark, our presenter for the afternoon, begins with thanks and then declares the book to be a "probing social narrative history", as well as a "bloody brilliant book". Cathy opens with an anecdote – the first of many enlightening insights – of her eccentric history teacher at school who would sit on his desk and simply read from the dictionary. As a result, she claims, she began reading many history books, buying every one she saw and reading as many as possible. Fifty-one pages into one such book, she noticed that only two females had been mentioned: Agatha Christie and the Queen. Of course, she was sure women must have done a great deal more for our national history, and thus she began a thorough exploration into their lives.
Throughout the talk, and indeed the book, Cathy stresses the importance of education. She states that it "transformed women's lives at that point" and that it is just as important today to educate students about the lives of inventive female figures and their advances for humanity.
Equal education made a world of difference, and so Cathy recounts Sophia Jex-Blake, who founded both a hospital and a medical school for women in Edinburgh, yet faced "extraordinary discrimination". She reads from the book: an excerpt of a letter from Sophia's fellow medic, describing the taunting calls the male students would deliver with spite. The two consider how the contemporary world has affected the abuse women face, discussing how the online sphere has provided a new platform for such taunting, whilst conversely lending itself to campaigns such as the MeToo movement.
Alex questions whether the incredibly partisan environment of recent years has made journalism increasingly tougher for Cathy. Despite the challenge, Cathy says this is an exciting, febrile time, in which journalists must double their effort to present what they know to be the case and not exaggerate.
In terms of what she discovered, Cathy paints for us the four waves of feminism, and how sometimes in history women were forced to take one step forward, two steps back, for example after the World Wars. The purpose of her book is clear: to explore how much has changed, as well as how much hasn't. She depicts the fact that it is illegal to have an abortion in Northern Ireland to support this idea. We finish with a Q and A in which we discover Cathy's favourite woman to write about was Beatrice Shilling, and that she is "broadly optimistic about the future", or tries to be. I left the library believing that a nation armed with the facts about truly inspirational historical women, is a nation inspired to become more egalitarian today.