MLF Chapter & Verse
The Manchester Literature Festival Blog
Review: David Nicholls in Conversation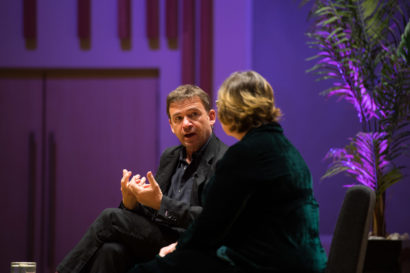 Centre for New Writing student Georgia Way finds a tenderness in David Nicholl's approach to writing.
The last time journalist Alex Clark interviewed writer David Nicholls in Manchester, it was, she says, a "mad experience" involving the police and broken microphones. David returned to Manchester on 4th October 2019 as part of his book tour for Sweet Sorrow – a story of first love set in the school holidays of 1977. Thankfully the evening – part of Literature Live, hosted by the Centre for New Writing – passed successfully in The Cosmo Rodewald Hall, Martin Harris Centre, with no incidents of damage, leakage or criminality.
Clark opens the conversation on the impetus behind Sweet Sorrow. First love was the primary draw for Nicholls; and having told stories ranging in age from university through to mid-life, he felt a need to return to adolescence. Nicholls wanted to give a "sincere" and "lyrical" account of teenage years which differed from the "corny" and "jeering" tone of high school stories. "'Tender' is the word I keep coming back to," Nicholls reflects; and it may be no coincidence that his favourite book, as he tells us later, is F. Scott Fitzgerald's Tender is the Night.
However, Nicholls says his "preoccupations" in novel writing are not autobiographical. He describes the process of creating the character Douglas in his 2014 novel, Us – which he describes as a cautionary tale of partnership and parenthood – as "writing away from myself"; Nicholls' early interest in science (Douglas is a scientist) was jettisoned by his acting: "If I hadn't been cast in all those plays…". Nicholls still wrote the character based on his own internal experience: "how could you not?"
Us is the only novel in which Nicholls created central characters older than he was, an experience he describes as feeling initially like "science fiction". However, once he had created Douglas and was "in character" (language which is surely an overhang from his acting days), "I could write Douglas all day". The Sweet Sorrow tour overlaps with the filming of the forthcoming adaption of Us. (Nicholls says it's a "blessing" that he hasn't been able to be on set; he has nothing to do and ends up upsetting the actors).
The challenge of this adaptation, he found, was transferring Douglas's first-person voice into the dramatic medium of the third person. Nicholls faced this difficulty of transferring interiority while screenwriting for Patrick Melrose, Sky's award-winning adaptation of the novels by Edward St Aubyn – favourites of Clark's. Nicholls said the adaptations were achieved through "Rewrites… it was years of writing […] Fidelity is relative when you adapt something," he reflects, "and I wanted [the episodes] to be as faithful as they could possibly be."
Asked about his experience of stepping between the identities of novelist and screenwriter, Nicholls relates the "dull, grim" process of delivering a storyline to a story editor to be judged purely on structure. He says the flash-forwards structure of Sweet Sorrow came about because in all his novels, he has "structural ideas fixed in my head before I start".
He began to think about Sweet Sorrow using a method he describes as "scrapbook", collecting ideas in a document for 18 months, and not starting to write until he knew who all his characters were, and what was going to happen. The conversation turns to editing: "I only stop writing because they take it off me." He recalls an intriguing conversation at the Kobo (eReader) headquarters, in which the possibility was raised of eBooks one day enabling writers to continually edit their work post-publication.
Nicholls rejects this and describes a book as a "diary" for both the writer – it represents a marker of who they are at that time – and the reader, through the process of reading and re-reading. He exemplifies this with his most recent rereading of Tender is the Night, which he found newly disquieting. He says that he would not want to edit forever – and post-event purchasers of Sweet Sorrow, individually signed and addressed by the author, must surely agree.