MLF Chapter & Verse
The Manchester Literature Festival Blog
Review: Elif Shafak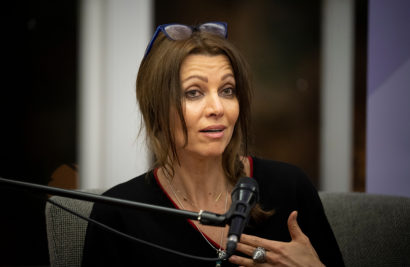 Centre for New Writing student Probert Dean finds hope for humanity at Elif Shafak.
When Elif Shafak finished her talk, I looked back on the event – an intimate gathering at Manchester Central Library – and reflected on her aesthetic turns of phrase, the lingering visions of her lively prose, and the sobering inevitability with which all discussions now turn to politics.
Shafak is described as British-Turkish (or Turkish-British) but considers herself a "citizen of the world" and admits to carrying Istanbul wherever she goes. The Istanbul of her book is not, she explains, the Istanbul proffered by the Ministry of Tourism. It's an Istanbul that's conjured before me as she reads: wheelie bins, streets all named after men – she zooms in on one particular street: there's a church, a synagogue. It's also home to the oldest licensed brothel in town.
Shafak wasn't able to set foot in Istanbul at the time of writing but has recreated it sensually, through the tastes and smells of street food and coffee: sense-memories that germinated into larger chapters.
She is "beginning at the end," by which she means our protagonist is dead; though Leila seems very much alive as she castigates Shafak for using the past tense.
Shafak's writerly approach casts her in the role of a question-asker. The new novel is 10 Minutes 38 Seconds in this Strange World, named for the length of time the brain allegedly continues to function after death. What would that dying person think, she asks?
Leila ends up buried (not a spoiler, insists Shafak) in a cemetery where the graves have no names, only numbers. It's a real cemetery in Istanbul known to inter LGBT+ people, suicides, sex-workers and other so-called undesirables. When refugees drown trying to swim to Europe it's where they might end up too. What were their lives like, she wonders?
Thus, Leila. Shafak gives a name to the number. "Literature tries to re-humanise those who've been dehumanised," she says.
Now writing in English and overseeing the Turkish translations, Shafak's insights into language are fascinating to the monolingual Brits, like me, in the room. Being bilingual makes her more attentive to the nuances of language. Turkish is apparently better suited to emotions whereas English befits irony and sarcasm. In Turkish there's a big distinction between "old words and new words", since words from other cultures, like Persian, were nationalistically culled by the Ottoman Empire. What's good about English is that "all words are welcome", she says.
In a crowd-pleasing moment, Shafak relates her struggle with her "acquired language", highlighting how her children mock her pronunciations of "squirrel" and "tortoise". The audience laughs, perhaps seeing the inherent silliness of those words for the first time.
After the extract, short and tantalising enough to guarantee queues at the merch stall, Shafak takes us into the grim reality of Turkey today. Turkey is "going backwards", she says, and when she talks about police seizing her books and underage refugee girls being married-off to polygamous husbands, it's hard for even the most hopeful progressive to disagree.
Shafak, as in her book, lightens the doom and gloom with a certain wryness. She's cognizant of the absurdities around her. When she was unable to attend the Booker Prize Shortlist (11th October in the Martin Harris Centre) the Turkish media claimed she'd been kicked out of Manchester. Some of us bravely chuckle.
Naturally on the agenda is the other ubiquitous topic of all discourse: social media and its dark side. But Shafak isn't without insights. In the Middle East, folks were so optimistic about social media that there was an Egyptian baby named Facebook and an Israeli one named Like. Ever the question-asker, Shafak wonders what their lives are like now, long after the world has come down from the euphoria of the Arab Spring, to wake up in a world of online rape threats and dangerous misinfo. Perhaps the subject of her next novel looms.
So is there any hope for humanity? Elif Shafak says stories can make a difference.
She finds it impossible to be "not-political" in Turkey, and urges us in the UK, perhaps also on a backwards slippery slope, not to succumb to Brexit-fatigue. "When moderates become disconnected, the space is taken over by hardliners."
She's already made a difference to her apparently diverse readership (inclusive of nationalists, xenophobes and homophobes) who identify with these outcast protagonists. "Why did you make them suffer?" they ask her, as their minds vainly fight the empathy infecting them.
In a typically strange but beautiful choice of words, Shafak says stories "open up an underground tunnel". I suppose it leads to those nameless people in the graveyard.