MLF Chapter & Verse
The Manchester Literature Festival Blog
Review: Hanif Kureishi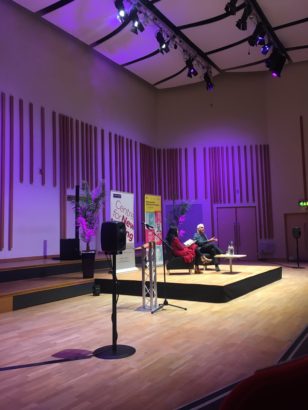 Our Young Digital Reporter, Joe Moody, discovers a writer considering meaning at Hanif Kureishi in Conversation.
Who are you and where are you from? Questions that have plagued the author, playwright and screenwriter, Hanif Kureishi, since his school days and have plunged him deep into existential crisis.  Born in Bromely of British/Pakistani parentage, Kureishi was candid about the constant demand to know where he was from and not just the town where he lived but where he was 'really from'? Consequently, he says he never felt he belonged but suggests that 'no one feels like they belong, except maybe the Queen'. Kureishi goes on to say that out of place is where he feels most comfortable. In fact, it was this feeling of uncertainty that encouraged him to become a writer, a moment he recalls with ease. Sat at his school desk, pondering the usual questions of a young teen such as 'what is the meaning of my life?' he decided to give his life meaning rather than find it. 'I remember the moment vividly. I was 14 and sitting in school looking out of the window and I thought suddenly, I'll be a writer'. It was with this that the 14 year old gave himself an identity.
Kureishi goes on to discuss his current role as Professor of Creative Writing at Kingston University, a role which brings him conflict. His controversial comments about creative writing courses in 2014 seem to have undergone significant revision and his issues now lie with the institutions rather than the students. A passionate speech about his shame for the financial extortion of students and the regret that he must operate through the university calls into question his reasons for teaching. But his love for helping students develop their writing is clear enough motivation. This being said, he is surprised at how little his students read, something he identifies as crucial to the development of a writer's voice. He attributes his own devastating appetite for books as beginning during his days as a Cub Scout; 'I wanted to get my reading badge so I would go to different libraries and take out as many books as I could at one time'. Now the drive doesn't come from his yearning for sew-on awards and has shape-shifted into what he defines as an addiction of sorts. One that a number of his audience would no doubt be able to empathise with.
Hanif Kureishi in Conversation was a witty and provocative discussion that gave poignant insight into his habits as a writer, reader and individual. A charming and enjoyable night.