MLF Chapter & Verse
The Manchester Literature Festival Blog
Review: Jonathan Safran Foer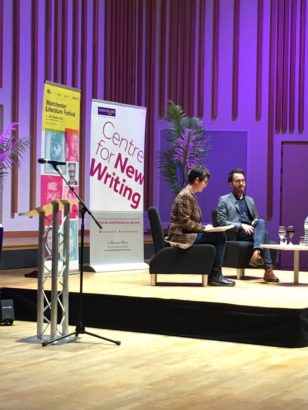 Centre for New Writing student Joss Areté Kelvin finds small changes can make a significant difference at Jonathan Safran Foer.
Acclaimed novelist and non-fiction writer Jonathan Safran Foer is sharing his own vulnerabilities in an effort to get his audience to question our own. His new book, We Are the Weather: Saving the Planet Starts at Breakfast, investigates the ethical concerns of our planet's climate crisis, framed as a dialogue with both the reader and himself, an interrogation of the actions we are and aren't taking. Last night, in an interview with the illustrious Erica Wagner (herself a writer, contributing literary editor for Harper's Bazaar, and Goldsmiths' professor) at the Centre for New Writing as part of the Manchester Literature Festival, Foer asked us to change our habits by discussing his own action–and inaction–in regards to the disaster facing our planet.
Foer and Wagner were warm with one another, allowing the audience into what felt like a conversation between two old friends–and indeed, Foer remarked on the joy of getting to check in together every few years over the past fifteen. "We still look as young as ever!" Wagner joked, in the first of many moments of levity that made a night with a heavy subject feel light and inviting. She opened by asking–if changing the world begins at breakfast, what did you have for breakfast? Foer's response, that his potatoes were "dense like a black hole is dense," was characteristically evocative, and from this the two jumped into the…meat of the matter (if you'll pardon the pun).
When Wagner asked Foer to describe the central thesis of the book, he relayed the simple fact that climate change exists and is the result of human activity. According to scientists, he explained, there are four main activities that contribute: flying, driving, having children, and eating meat–the last being the most important. In fact, the UK & US would have to consume 90% less meat and 60% less dairy over the next ten years to meet the Paris Agreement and avoid catastrophic collapse.
Yet, he expressed, these facts can feel vague, distant. Foer believes that for us to create new habits, we need to shift the story we are telling about climate change. His intention with this book is to create a microcosmic "overview effect," a term coined by astronauts to describe the emotional impact of understanding that we live on a planet floating in space. In writing, he is trying to become "someone who doesn't steal from the planet or the future," to question his own ability to care, by which he means to engage on a continuous basis. He remarked on his failure to do this even having authored the book, and likened this moment to 1942, when Polish Jew Jan Karski relayed the atrocities of the Nazis–only to be confronted with Supreme Court Justice Felix Frankfurter's response that, while not implying that Karski was lying, he didn't believe him.
In order to choose to believe and change our actions, Foer suggests we change our orientation–by focusing on achievements rather than shortcomings. He commented: "We've been in the habit of measuring people's ethical distance from perfection we can't obtain, rather than our distance from not doing anything at all." Wagner expressed her tendency to look at the obstacles first, such as horror at giving up milk in her morning coffee–a feeling echoed by the audience during the Q&A. Foer's advice: "We're all oriented towards the same goal, but we don't have to have the same plan…Apply the thoughtfulness to the places it is easiest–there's so much low-hanging fruit" : rather than starting with the end, he suggested we make whatever changes are simplest, and look at change as a process, rather than a binary choice of all or nothing.
We Are the Weather grew out of the alienation and depression Foer experienced due to his own inactivity, and he shared that committing to change has increased his happiness. His wish is that the strongest voices in the climate crisis, such as Greta Thunberg and Al Gore, will use their microphones to transform energy into action. He turned the conversation towards the audience, asking if we believed in climate change, and if we care–and everyone raised their hands. Then he asked if we had a plan–and only one or two hands raised. He called upon us to risk accusations of hypocrisy and make one, admitting his own action-inspiring shame, when, two weeks ago at a reading, an couple came asking him to sign witness to their plan, and he realized he hadn't written one of his own. So he did: no flying on vacations, volunteer one day a week at 350.org or NYC public school, only 3 cabs per week, eat vegan for breakfast and lunch and vegetarian for dinner. After writing this review, I've made my own plan. What's yours?