MLF Chapter & Verse
The Manchester Literature Festival Blog
Review: Kerry Hudson: Lowborn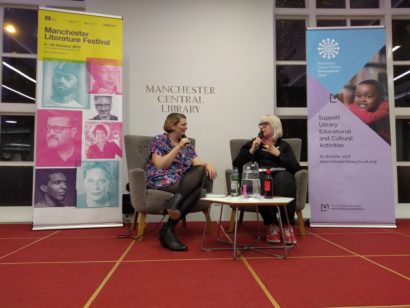 Our Young Digital Reporter, Rosie Hilton, considers action via conversation at Kerry Hudson: Lowborn.
Kerry Hudson's event for Manchester Literature Festival, in conversation with Naomi Frisby on her book Lowborn, is free of charge, asking only for donations to local foodbanks from those who can provide them. This choice, taking an active approach to improve accessibility whilst helping to alleviate food poverty, creates the perfect framework for the overarching message of tonight's event.
Lowborn is a memoir documenting Kerry's childhood experiences of poverty and her attempts as an adult to revisit the communities in which she grew up and to reconcile her early life with her current success. The complexity in the contradiction of these seemingly separate lives contained within one person's experience is at the heart of what Kerry and Naomi discuss tonight.
An important part of this reconciliation for Kerry is her visibility as a working-class writer. She tells us, "I wouldn't survive in an industry I felt so out of place in unless I actively tried to change it", celebrating the importance of the solidarity she has experienced with other working-class writers and the power of making herself seen in an overwhelmingly middle-class industry. When a teacher in the audience asks how to go about introducing working class children to the arts without creating a rift between them and the older generations in their family, or a disassociation with their own identity, Kerry emphasises the impact of visible working-class role models in the arts.
She is careful here, however, not to inadvertently become an advert for social mobility. She attributes a large amount of her own career to luck, making it clear that she will not allow her success to be used as an excuse to tell others to "pull themselves up by the bootstraps". Kerry holds that "we live in a society that is horrible to poor people", and points out that the structural problems, which work against working class people and those living in poverty, cannot be overcome simply through hard work.
This leads to another key focus of the evening: the inextricable link between the personal and political. This is embodied, perhaps coincidentally, by the space in which the event takes place. As a child, Kerry says that public libraries and the stories they contained provided her with "hope for another future". On a personal level, for children like Kerry, libraries exist as places of escape and opportunity. Yet they remain inescapably political, symbols of safety and community that would not exist without public funding.
At the end of the night, audience questions are notably political, most falling under the same umbrella question, 'what can we do?'. This response is telling. While Kerry does not claim to have the answers, what she is doing is something new and urgent. In writing frankly about how her experiences speak to a wider, structural problem, Kerry is revealing often ignored truths about poverty in Britain, and in doing so, is generating the potential for action as well as conversation.