MLF Chapter & Verse
The Manchester Literature Festival Blog
Review: Lemn Sissay & Henry Normal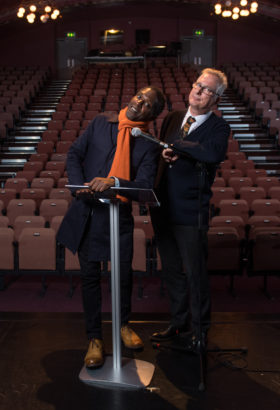 Our Young Digital Reporter Laura Swain encounters much laughter and inspiration at Lemn Sissay & Henry Normal.
It's 25 years since the acclaimed writer, producer and poet Henry Normal founded the Manchester Poetry Festival and was joined on stage by a young Lemn Sissay. On 16 October, Henry and Lemn reunited at The Dancehouse for a sold-out event that would celebrate the continuing success of the Festival (now Manchester Literature Festival) and showcase their literary brilliance.
Henry endorses laughter and invites the audience to indulge in what is promised to be a highly entertaining evening. However, the instruction to 'don't keep it in' is one he needn't have voiced as the audience are repeatedly left unable to contain their laughter during the numerous comical moments effortlessly generated by both Henry and Lemn. After successfully instating a relaxed atmosphere Henry expresses his admiration for Lemn as friend and celebrated poet. Henry praises Lemn as a 'world poet' before welcoming Lemn onto the stage to read from his bestselling memoir My Name is Why.
When Lemn was twelve years old the foster family he'd been with from birth decided to put him into care. The children's care home in which he was placed would become one of a succession of institutions Lemn would have to endure throughout his childhood. Reading from the preface of his memoir, Lemn explains how 'The Authority had been writing reports about me from the day I was born' and that it was not until 2015 'following a thirty-year campaign' that he eventually received the records that document the first eighteen years of his life. Lemn adds that 'getting the files was very important for me' and 'fundamental' to him understanding what happened to him as a child. It feels like an honour to witness Lemn's mesmerising performance as he reads selected excerpts from his beautifully written memoir that seeks to understand his identity and share the heart-breaking narrative of his childhood. However, at one point the audience can hardly contain their laughter as Lemn shares a passage which recalls how, as a child, Lemn used a 'roof column system' to conceal the fact he'd stolen a biscuit from the biscuit tin. The story is amusing and relatable but, Lemn states, 'the files tell a different story', an exaggerated account that distorts what was simply the innocent behaviour of a child. Lemn's talk indicates the importance of exposing the injustices suffered by individuals, like himself, whilst in care, and expresses a determination to reclaim the memories and experiences of his childhood.
Henry is introduced by Lemn as a 'culture-changing human being' as Henry takes to the stage for the second half of the event. However, Henry chooses to describe himself as a mixture of 'Leonard Cohen and Daffy Duck', much to the amusement of the audience. As he reads an eclectic selection of poems from across his seven poetry collections, he holds a mastery over the audience who happily absorb his every word. Interspersed throughout are a delightful mix of hilarious anecdotes about family life and love, and thoughtful considerations about poetry and the capacity of poems to communicate a 'perception of the world'. Henry talks about how the 'old poets' often wrote about 'nature and love', adding 'I thought I'd do my own nature and love combo'. The silence of the audience who sit in eager anticipation of the poem to come dissolves into a violent eruption of laughter as Henry announces the title of his work: 'Sex in the Woods'. The beaming smiles of the audience are mirrored on Henry's own face as he looks up, and proudly acknowledges his success: 'See, I've done it in one line.' Throughout the evening the audience are taken on an emotional rollercoaster as Henry skilfully moves from the utterly hilarious to the sublime – finding both in everyday life.
Henry also reads from his book A Normal Family, which he co-wrote with his wife Angela about life with their autistic son Johnny. During audience questions, when Lemn contemplates empathy, calling it the 'greatest thing we have', Henry states: 'I now view everyone else as I want them to view my son.' As the evening draws to a close both poets select a final poem to perform. Henry's poem, 'A Prayer for the Hesitant', ends with the line, 'You are good enough'. The line is a beautiful and powerful note on which to end a truly inspiring evening.