MLF Chapter & Verse
The Manchester Literature Festival Blog
Review: Naomi Wood: The Forgotten Women of the Bauhaus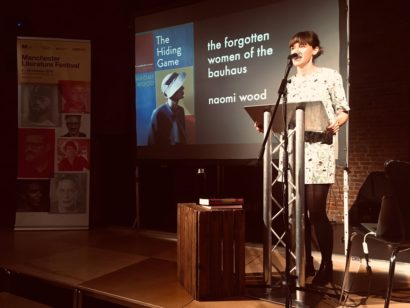 Our Young Digital Reporter, Lily Ball, finds much to admire in Naomi Wood's view of the Bauhaus.
Naomi Wood's talk The Forgotten Women of the Bauhaus explored the lives of a selection of female artists from the Bauhaus art school who Wood described as being "left in the shadows", whilst male artists such as Walssily Kandinsky and Paul Klee resolutely hogged the spotlight. Naomi began her talk by showing us a variety of photos of the Bauhaus student misfits. She tells us these images, often depicting the students in cross-dress or costume, dressed up as the moon or cutlery or their grandmothers, inspired her book The Hiding Game. Yet throughout the hour talk it became salient how, for Naomi, the Bauhaus surpasses being simply an object of intellectual interest. With a sheepish smile she told us that Otti Berger, a Jewish textile artist who later became a teacher at the school, was her favourite and when Berger's picture appears on the screen Naomi gazed at it adoringly. She repeated the same gesture of affection with a portrait of Grete Marks', sighing "I just love her". It's easy to see her attraction to such eccentric and wilful characters. Pointing out a scribble on the bottom of Grete Marks' ID card, Naomi told us the ceramics artist crossed out 'student' and wrote 'master'.
By bringing to life the real-life students in The Hiding Game, Naomi described her book as filling in the emotional gaps of the Bauhaus story that you don't get in history books. She was only able to do this with such delicacy in the novel because of her intimacy with the school's history. She told the audience that she visited what is left of the Bauhaus in Germany even though there are few physical details of it's legacy left. Even many of the surviving photos of the school that capture its unique modernist architecture come with what Naomi evocatively described as a "horror-story". She refers to the stunning photos of Lucia Moholy, that documented the life of the teachers and students, but were misattributed to her ex-husband. The audience, including myself, were mortified and groaned in response.
To make up for where history has failed, Naomi divulged the women's profound and often poetic relationship with their craft. She told us that Berger believed to make a successful piece of work "one has to eavesdrop on the fabric's secrets". While Marianne Brant, who succeeded in becoming enrolled in the metalwork course (usually women were restricted to the weaving course only), was concerned with disconnecting the ego from her artwork by focusing on doing justice to the properties of a material. Brandt's teapots now sell for thousands of pounds. Naomi advised her audience "if you have one of those teapots in your attic", she paused and rubbed her hands as if awakening a genie, "give it a polish".
I can't help but wonder whether researching the Bauhaus and their ethos towards making art had any effect on Naomi's own writing process. I wonder whether it made her more playful, like the Bauhaus students who favoured experimentation over production. Naomi told us she is an "anxious writer". The novel was written after the birth of her first child and finished a week before the second one. She says having children soothed some of her anguish over writing, as she realised it was a "damnsight easier than looking after babies". To laughs from the audience she adds "I love my work more than I wanna hang out with my kids".