MLF Chapter & Verse
The Manchester Literature Festival Blog
Review: Take 2: David Nicholls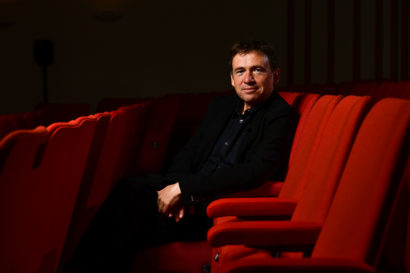 Our Young Digital Reporter Helen Worrall finds a writer who can't stop editing.
Picture the scene: I'm lying on a sunbed, beverage in hand, crying.
This is how I read the final 50 pages of David Nicholl's One Day.
And I wasn't alone. I can hear two women in front of me here tonight at the Martin Harris Centre discussing a similar tear-soaked poolside experience.
We have all gathered this evening in Manchester to hear the award-winning author and screenwriter, David Nicholls be interviewed by Alex Clark about his latest novel, Sweet Sorrow. It is quite an ominous start as the pair discuss previous book tour catastrophes including floods and police interference, but with assurances of "it's going to be fine", repeated one too many times to be truly comforting, we begin.
Nicholls' tragicomedy, Sweet Sorrow is set in 1997 and described as a "classic Summer coming of age story". Charlie Lewis is sixteen and, having flunked his GCSEs, finds himself – to his own horror – joining a production of Romeo and Juliet to be close to his first love, Fran. Through Sweet Sorrow, Nicholls hopes to recreate the "mad intensity" of being sixteen and how fun, but sometimes frightening, this age can be.
After reading a funny and frankly traumatising extract about Charlie's final school disco, the discussion turns to how Nicholls recreated this era, having himself turned 16 in the 80s. Nicholls admits that he feels he has been too heavy handed with cultural references in the past and believes they should be used sparingly to create a universal story. To this end, Nicholls feels that even his global bestseller, One Day is guilty of this and, if given the chance, would be tweaked. In fact, Nicholls tells us that he is "rewriting all the time". Even the extract he read aloud has been changed on the spot. "I only stop writing because they take it off me", Nicholls admits and says that nothing he produced "couldn't be improved with half an hour and a pencil".
As a fan, I'm glad that publishers manage to wrestle books like One Day and Us out of Nicholls' hands and into bookshops. The interview sometimes feels like a pseudo-therapy session, with Clark trying to convince Nicholls that everyone in the audience (and a lot more besides) love the work he now fondly calls "contrived".
One area of Nicholls' work that is new to me is screenwriting: his writing on Cold Feet, adaptations of several of his own books and the BAFTA winning series, Patrick Melrose. Although these have achieved great success, Nicholls enjoys the "terrific freedom" he has as a novelist, not constrained by budget or time, that allows him to write from a more "personal place".
Although Nicholls insists that Sweet Sorrow is no autobiography, admitting that, as a self-confessed teen theatre nerd, he was "one of the kids Charlie would have laughed at". Nicholls says that he is far closer to Emma from One Day, joining failed theatre groups and dreaming of becoming a writer. I speak for all of us here in the (thankfully) flood and police interference-free audience when I say that I am glad that particular dream came true.