MLF Chapter & Verse
The Manchester Literature Festival Blog
Review: Sandi Toksvig in Conversation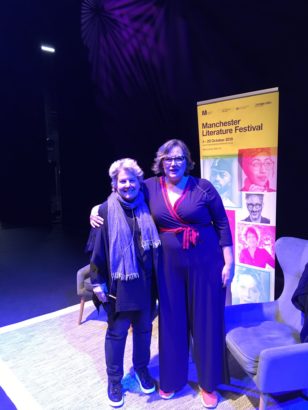 Our Young Digital Reporter, Elizabeth Gibson, finds Sandi Toksvig courageous and inspiring.
Sandi Toksvig has long been a role model to me; a reliable presence, funny and very kind. I was lucky enough to meet her a few years ago when she gave me a hug and chatted to me about my dreams of being a writer, giving me some solid advice. It's a moment that really stuck with me so it's lovely to get the chance to spend time in her company again.
Sandi takes the RNCM stage to delighted applause – she's quite clearly adored by everyone in the room. Alex Clark is a brilliant host, finding the perfect balance between discussing Sandi's new book, Between the Stops, and looking back over her long and diverse career as a writer and broadcaster.
Between the Stops is a memoir of sorts, but Sandi hastens to add it is a different kind of memoir, as the thought of writing a conventional one didn't feel right to her. Instead of following a strict chronological narrative, the book invites readers on a London bus journey that Sandi adores. Sights along the way prompt memories and anecdotes from throughout her life.
A topic of conversation that Sandi raises early on is her experience of growing up gay and coming out. I'm moved as I find I relate to a lot of what she says, about her feelings of being "other" but being unable to really explain it. I'd been unaware how horrific her coming out experience was, with abuse from the tabloid press, and death threats, leading her to take her children into hiding. Sandi gets emotional as she tells the story, and emphasises how she wants people to never forget what LGBTQ+ people have been through and are going through. In one of the most powerful moments of the evening, an audience member reaches out to Sandi, telling her she's no longer alone and offering her a rainbow wristband. A reminder that however dark the world can seem, you will always find solidarity and respect somewhere.
In a more light-hearted moment, Sandi talks about hosting The Great British Bake Off with deep and genuine love. She reassures us that the show is just as wholesome and warm as it appears, with the contestants always growing to care for one another and be like a family. Sandi also evokes the fun image of the hosts and judges relaxing in the country house's "green room" in breaks between filming: Sandi reads, Prue writes, Noel draws and Paul watches Formula One.
Once again, Sandi has made me feel like I can do anything. She baulks at being called an "icon", but she's certainly somebody who's changed lives by being completely, courageously herself. It's brilliant to see her again and to share a room with so many people who love her, too – bringing my 2019 Manchester Literature Festival experience to the perfect close.
Elizabeth Gibson has been announced as a New North Poet at the Northern Writers' Award, as well as coming second in the Timothy Corsellis Prize. Her work is inspired by daily life in Manchester, as well as nature, love, sexuality and protest. She is currently working on a Young Adult novel set in Spain. She blogs at http://elizabethgibsonwriter.blogspot.com, tweets at @Grizonne and Instagrams at @Grizonne.