MLF Chapter & Verse
The Manchester Literature Festival Blog
Spotlight On: Tilted Axis Press

Continuing our series of Q&As with publishers in the Northern Fiction Alliance, this week we interview Theodora Danek, manager at Tilted Axis Press. Founded by Han Kang's English language translator, Deborah Smith, Tilted Axis publishes artistically original and radical books in translation.
When and why did you start Tilted Axis Press?
Our creative director Deborah Smith founded Tilted Axis Press in 2015 with the help of an Arts Council grant. From the beginning, our mission has been to publish books that wouldn't otherwise make it into English, which for us means a focus on translated literature from Asia.
Which book from your back catalogue should we all know about?
Panty, our very first book, is the first of three brilliant novels by Sangeeta Bandyophadyay that we have published to date, all translated from Bangla by Arunava Sinha. A woman fantasises about the former owner of leopard print panties in a deserted Kolkata apartment. It's a modern classic, a brilliant meditation on religion and nationhood as well as gender and sexuality.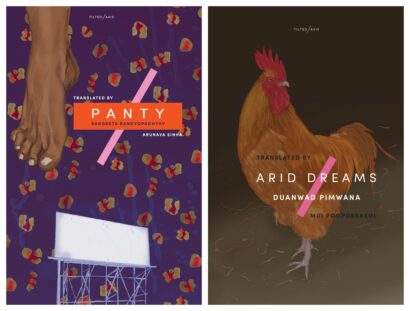 What are you publishing this year?
Where the Wild Ladies Are by Matsuda Aoka (translated by Polly Barton), Arid Dreams by Duanwad Pimwana (translated by Mui Poopoksakul) and No Presents Please: Mumbai Stories by Jayant Kaikini (translated by Tejaswini Niranjana), a trio of brilliant and stylistically very different short story collections by authors from Japan, Thailand and India, all concerned with society, gender and class. Two poetry collections – Unexpected Vanilla by Lee Hyemi and Killing Kanoko/Wild Grass on the Riverbank by Itō Hiromi – on gender and bodies translated from Korean (by So J. Lee) and Japanese (by Jeffrey Angles). And in the autumn, Women Dreaming and Strange Beasts of China, two novels by star author-translator pairings – Salma/Meena Kandasamy and Yan Ge/Jeremy Tiang – about friendship, family, and cryptozoology.
Are you doing anything during the lockdown that we can join in with?
Yes please! We have co-founded an online book club with other small indie presses of translated literature. Join us! Details here.
Where can we buy your books?
On our website or in all good bookshops!