MLF Chapter & Verse
The Manchester Literature Festival Blog
Review: Angela Davis & Jackie Kay in Conversation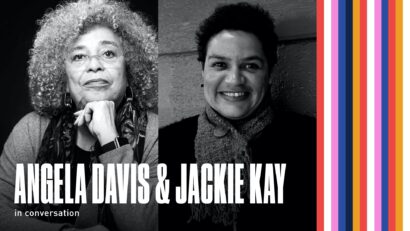 Young Digital Reporter Owen Mul finds hope and solidarity at Angela Davis & Jackie Kay in Conversation.
50 years ago, Angela Davis was on the FBI's 10 Most Wanted List. Today, in stark contrast, she is sitting behind a computer, poised in front of a fittingly extensive book collection, reminding us of the exciting potentials afforded by this unique juncture in our history. Undoubtably, there is much to despair about at this time, but long-distance conversations such as these between two amazing women are at least one positive to arise out of the Covid-19 situation. The admiration felt between these women is palpable, as illustrated though a touching anecdote of Jackie's father purchasing her a 'Free Angela Davis' poster which she displayed in their home during the campaign.
Despite such a seismic influence, Angela insists on humility: 'I never had any aspirations to be perceived a leader, so I retained that sense of who I am only because of the work of others'. Angela's solidarity and kinship with others is illustrated through a story from her childhood; she and her friends entering all-white neighbourhoods, from which they were banned, ringing doorbells and running away before being caught. This story of childhood innocence is ruminated on by Jackie and Angela through the lens of circumstances characterised by the regularity of violence, specifically how games such as these showed that she did not have to accept the status quo. In her own words, this allowed her to grow up 'with a sense of the possibility of resistance'.
This sense of endless possibility is beautifully captured within their conversation, as Jackie reflects on the sheer artistry and creativity that is exhibited through social and political organisation – pulling on stories of Angela's time in prison. One such story is told of Aretha Franklin's offer to pay Angela's bail, a task which ended up being fulfilled by a white farmer by the name of Rodger McAfee, but nonetheless touches on the humanity to be found within such a shared, diverse and communitarian set of experiences.
This understanding of the importance of a collective effort is what leads Angela to elegantly and succinctly introduce what she calls the 'continuum of struggle': an ongoing process of change to which she feels lucky to bear witness. This cycle of growth and change is beautifully illustrated by an anecdote of Angela's mother campaigning for her release with a baby in one hand while making a fist in the air with the other. These thoughtful recollections make palpable the influence that the efforts of others have had on Angela's life, work and legacy.
Jackie comments that we are 'living in tinderbox times', noting that the Black Lives Matter movement is the most recently development of this continuum. Turning the focus to our pressure cooker present, both women express their optimism in the growing willingness to engage with the issues and legacies stemming from slavery, colonisation and the assault on indigenous people – particularly the need to address the failures of the past to shape our future. Responding to these circumstances, Jackie addresses Angela on her thoughts on the 'abolitionist imagination', or how we must imagine safety and security in a more capacious way. A way that moves past the institutions of prisons and police, and one that embraces community, education and health – a future Angela seems entirely invested in.
It is clear that despite decades past, and the life experiences which comprise her legacy, Angela Davis still retains the same optimism and hope for a better life as she did when running from doorbells in all-white neighbourhoods; fundamentally, that there is always a new way of life possible, and we must remind ourselves of this and fight accordingly.
Owen Mul is currently working towards a BA in International Relations and Politics at the University of Sheffield. He can be reached on Twitter and Instagram @owen_mul