MLF Chapter & Verse
The Manchester Literature Festival Blog
Review: Cabaret for Freedom, A Celebration of the Life and Work of Nina Simone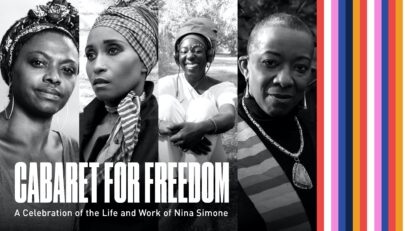 Young Digital Reporter Marouso Menegou finds heartbreak, energy and power at Cabaret for Freedom, A Celebration of the Life and Work of Nina Simone.
Cabaret for Freedom this year was a virtual event, but it didn't lessen the intense and engaging nature of the performances which celebrated the legacy of Nina Simone. People in the UK and abroad shared this unique experience gaining an insight into how several poets and singers have been influenced by the life and work of this great woman. For this event Manchester Literature Festival partnered with Young Identity and St John's Church in Old Trafford.
The event began with Shirley May in St John's Church, taking the audience on a journey to the place that hosted the three previous Cabarets. Her poem 'Doo wop and Hate', which followed her introduction, reflected the life and struggle of black women to claim their identity and freedom, eventually assuring the younger generations that 'Better times are around the corner'.
Akilah Akinola, having in mind the lyrics of Nina Simone and her views on equality, talked about the artist's first experience of racism emphasising the strength it took to 'carve her own path' in music and get involved in the Civil Rights Movement.
Simone's song Four Women inspired both Nasima Begum and Zena Edwards as it has influenced many people throughout the years. Edwards's heart-breaking performance of 'Four (and then some) Women' directly referred to Sarah Reed, a victim of police brutality with mental unwellness, whose life should not be forgotten.
Malika Booker was 'struck by how Nina Simone responded to black women's struggles and wrote songs about and for black women unapologetically'. Malika shared poems that aim to continue Simone's legacy. 'Broken Gifts', 'A Litany of Prayers' and 'Faith' were all very powerful, exploring the female relationships across generations.
Young Identity, the poetry collective, was represented by Roma Havers, Esther Koch, P.A. Bitez and Yorusalem Tesfay Okbamichael who shared work throughout the event.
During the event, there was a captivating dialogue between poetry and music.  Ellouise Bridge's first performance followed the lives of Black people during and after their journey overseas. Later Ugochi Nwaogwugwu gave two energetic performances full of Afro Soul sounds, while Charlotte Barber's song Girl praised self-acceptance.
The whole evening was an emotional roller-coaster leaving the audience in awe. It was an amazing production that deeply connected people of all generations through this shared experience and love for the iconic figure of Nina Simone and Black culture.
Marouso Menegou is a post-graduate Publishing student at the University of Central Lancashire, fascinated by the combination of arts and language contributing to the reading experience. Marouso's Twitter is @MarousoMenegou