MLF Chapter & Verse
The Manchester Literature Festival Blog
Review: Daisy Johnson & Sophie Mackintosh in conversation with Jeanette Winterson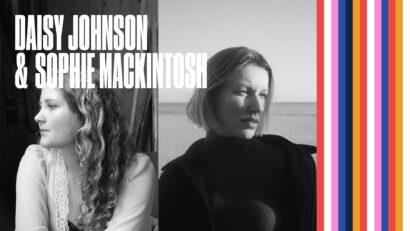 Young Digital Reporter Joe Hair discovers ideas about control and choice at Daisy Johnson & Sophie Mackintosh in conversation with Jeanette Winterson.
Despite 2020 throwing about every hurdle it could, we arrived at our first #MLF20 book talk on 23 October. Daisy Johnson and Sophie Mackintosh were led by veteran author Jeannette Winterson for an insightful hour that could've run for several more. Daisy and Sophie spoke of their powerfully disturbing novels: Sisters and Blue Ticket. Fittingly the talk was disturbed by some 'connection horror', as Jeanette called it, but the authors took the hiccups in their stride.
The conversation commenced with a reading from Daisy's gothic thriller Sisters, a hotly anticipated read following her lauded debut Everything Under. The book which secured Daisy a nomination for the Man Booker Prize in 2018, making her the youngest nominee in the prize's history.
'You love triangles, don't you?' says Jeanette, referring to the taut family dynamic presented in both of Daisy's novels. 'I love trapping characters', she responds enthusiastically, 'It's such an uncomfortable number, certainly in Sisters and in Everything Under as well'. The disconnection of characters is a recurring motif of Daisy's, as she claims it's the best way to keep them under control. It's immediately clear how this resonates with the audience, as we watch from afar behind our screens. Sophie's book follows a similar vein, dissecting the isolation of pregnancy; she describes the body as both 'our home' and 'absolutely alien'.
Later, they are asked about their writing process, as both authors have ventured out from poetry and short stories, into the longer form. 'Coming from poetry was unusual, I had a crucial misunderstanding of plot', Sophie laughs, explaining that it required a 'different part of my brain' to switch to novel-writing, giving her the chance to 'chip away at something'. She reveals that her writing intends to 'give ritual to things that have no ritual, and to make sense of them', which should do something to reassure readers disturbed by the 'strangulated horror' (another apt coinage of Jeanette's) of Blue Ticket. Daisy admits she has always felt a need to write characters who are stricken with an internal battle, whilst also being 'isolated from society'.
Jeanette questions the pair on the political aspect of their texts, to which Daisy acknowledges that 'writing is inevitably political', especially for women, as the personal has become the political in today's climate. 'Writers are like magpies, we steal things, every book is part of its times'. Sophie concurs, 'We do live in a patriarchy that consistently refuses to let women have control over their own bodies, forced sterilisation is something that happens every day.' A stark reminder that her gender dystopia isn't as far from reality as you would hope. 'You're not writing dystopias though, you're writing stories about people with absolutely limited choices,' Jeanette maintains, highlighting the underlying theme of Blue Ticket as the internalised struggle of the psyche, much akin to the psychological battle depicted between the family in Sisters. 'I think people misconceive women's stories as just women's stories, really they're human stories,' Sophie says, underlining that female authors aren't always given the 'gravity they deserve'.
The conversation is then opened to the floor – a text box where the audience submit their questions. The first of which addressing the internal voice, and how to ignore its incessant negativity. 'My dad describes it as a monkey on the shoulder, some have a gorilla, some have a ring-tailed lemur,' Daisy explains to much laughter from the three. They determine that the monkey never goes away but can be overcome with experience and to remember that no first draft is a good one.
They conclude with the inevitable pandemic question, to which both authors confess a slack in their reading, which they put down to the brain firing at reduced capacity due to being stuck inside. 'I was planning on travelling to France for my next book and so that has had to take a new direction' Sophie divulges, leaving her to wonder of the 'parallel universe novel that could've been'. A thought which must have crossed the mind of many in the audience as we reluctantly switch off our screens and return to the dystopia we find ourselves in today.