MLF Chapter & Verse
The Manchester Literature Festival Blog
Review: Kae Tempest in conversation with Max Porter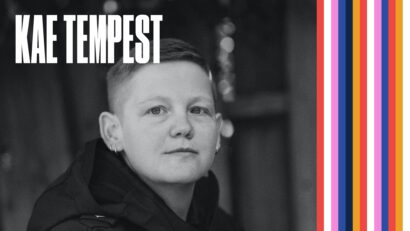 Young Digital Reporter Lydia Rostant finds connection and creative thinking at Kae Tempest in conversation with Max Porter.
It would be negligent not to address the irony of joining an online video platform to hear the prophetic Kae Tempest talk about their new work On Connection. In what will be their first work of non-fiction in an illustrious, fervent career, the book aims to address 'everyone, all the time, no matter what' and unpick the concept of creativity and connection in 2020. As the digital clock counts down the minutes until the talk begins, the interface of this year's Manchester Literature Festival begins to buzz with virtual activity. In much the same way one could imagine a real audience coming in from the evening's rain, glowing avatars message hello from Chile, Norway, France, Glasgow, Hamburg and native Manchester.
Both Max Porter (author of 2015's hugely successful Grief is the Thing with Feathers) and Kae cut unassuming figures; Kae is calling from their friend's recording studio and Max is framed by the comforting clutter of domesticity.
Kae admits that the choice to write a non-fiction book was heavily governed by what they call the 'brackets of practicality'. Namely Faber & Faber commissioning the project, and lockdown providing an advantageous set of limitations through which Kae was able to work with intention. The idea of creative restraint is one that divides Max and Kae in a rare moment of disparity. Max suggests that the form a piece of creative work takes is rarely its most significant feature, to which Kae responds that a sense of formal tension greatly benefits their work – 'restriction gives me something to push against'.
It is a sentiment that might surprise fans of Kae's work— accustomed as we are to their lyrically dense, kinetic work in poetry and rap. There perhaps seems to be a disconnect between the impassioned performances they're renowned for and the rigorous, disciplined mode in which they work. It is a discord Max is quick to dispel – he recalls the first time he encountered Kae, eighteen or nineteen years ago at a rap night in Brixton. He insists that even then, Kae cut a striking figure; a 'prodigious talent' with 'focused, technically exquisite energy'. Kae looks mildly bashful at the compliment but is keen to stress the importance of their origins in South London's rap scene. It was, they say, a 'straight male space' and they felt as though they were unable to 'relax in the function' until they'd contributed creatively.
This artistic duplicity largely informs On Connection, which explores the great need for communication through artistic modes in today's society while interrogating the apparently incessant need to be connected via social media. It is borne from a very real place in Kae's life— the desire to both accept the 'numbness' of the times as well as fight against that numbness by 'noticing with intricate specificity any fucking detail in the world'. They openly admit that the past year has been a difficult one in terms of their mental health and that the current social climate is one that requires the individual to 'know where [they] stand'- no mean feat for those with a following quite as comprehensive as Kae's.
It seems as though Kae could speak all day on the subject of connectivity, communication, empathy and accountability (with Max more than eager to oblige), but as the digital clock at the top of the screen blinks ceaselessly on, the conversation has to come to a close. Kae reads an extract from On Connection, their head swaying to an invisible beat, their voice melodious and emphatic as always.  By the time the talk wraps up, there are 214 people watching, from tiny glowing screens across the world. It is a lasting testament to the words of Kae themselves – 'everyone, all the time, no matter what'.
Lydia Rostant is a recent graduate of the Centre for New Writing with a keen interest in all Manchester has to offer culturally, socially and journalistically. Her twitter is @LydiaRostant and you can also find her on Linkedin.