MLF Chapter & Verse
The Manchester Literature Festival Blog
Review: New Daughters of Africa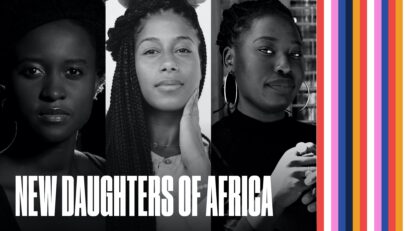 Young Digital Reporter Alice Skelly finds inspiring discussions and readings at New Daughters of Africa.
The digitalisation of this year's festival by no means hinders its atmosphere, engagement and reception from audiences. Margaret Busby is joined in conversation by contributor Sarah Ladipo Manyika, alongside other writers from the UK, US, and Nigeria. The event is a celebration of the release of Margaret's second groundbreaking anthology New Daughters of Africa, a compilation of seasoned, leading and upcoming female voices from the African diaspora. The title alone speaks to its intergenerational scope; it is both an homage to preceding authors and a natural progression of its 1992 forebearer, reinvigorated by the influence of the 21st Century.
The event opens with a lively discussion between Sarah and Margaret, who Sarah hails as a 'publishing extraordinaire', on the genesis of Daughters of Africa and New Daughters of Africa comparatively. In her response, Margaret exudes both ardour and esteem for the writers. Her intent to highlight the 'endless pool of creativity that comes from the female imagination of African descent', and showcase it to a wider audience, is unrelenting.
I find the discussion of the continuity between volumes profound. Margaret explains that authors have been both 'supported' and 'inspired' by their predecessors, believing that 'they too could be writers'. A Daughters of Africa 'sisterhood' across generations is established, one that is both figurative and literal – Margaret mentions that Yvonne Bailey-Smith, who exchanged her career as a therapist for creative writing, features in the anthology alongside her daughter, Zadie Smith!
Sarah closes by asking what can readers 'take away' from these anthologies. Margaret answers emphatically: a woman of African descent can write 'anything'. You 'do not have to be defined by someone else', nor bound by the restrictions of expectation. New Daughters of Africa indeed shows a resolute historical 'legacy', as well as infinite possibility.
The event moves on to readings from an exciting selection of contributors. As we listen, they grapple with a plethora of topics: identity politics and the Black body; sexuality, motherhood and loss; violence and radical resistance. These are introduced by Tjawangwa Dema performing 'Born Sleeping'. The soft tone in which Tjawangwa reads seems to elevate the more gritty, visceral subject of miscarriage.
This is followed by Aja Monet. Her rendition of 'What Riots True' is an impassioned, politically-charged interrogation of militancy and complicity. Aja commands that Black power be regained through education, through the words 'Tell the stories of those who fought back, and why'. This truly packs a punch and resonates vividly with the audience.
Lola Shoneyin then delivers a poignant tribute to the 69 innocent young boys killed in a Northern Nigerian boarding school, 'Whose names we never call', but 'everyone will remember'. Lola's poetic voice is composed as she reads 'Buni Yadi'. However, this does not take away from her affirmation of callousness and loss in her honouring of their memory.
Readings conclude with Bridget Minamore, who teases a larger prose piece she is currently working on. Minamore's performance captures the power of the spoken word, and expresses themes of displacement with a rhythmic eloquence. The crescendo of the piece uses language to convey the ways in which the African authentic self comes into collision with expectations of this Western 'new land'.
New Daughters of Africa is a space where voices of the African diaspora are amplified and creativity celebrated. Margaret assures us that these anthologies are not bodies of literature that will 'come and go'. Rather, they transcend the boundaries of time and place, the milieu of their conception, and will always be relevant. Moreover, I believe there will be many more anthologies to come and, that the Daughters of Africa legacy will be one which long continues.
Alice Skelly is currently undertaking an MA in English Literary Studies at the University of York. Her interests lie in literary representations of the body, contemporary fiction, and modern Irish literature and history. Alice instagrams at @alicemskelly, and you can read her book reviews at @aliiipooreads.