MLF Chapter & Verse
The Manchester Literature Festival Blog
Review: Slay in Your Lane Presents Loud Black Girls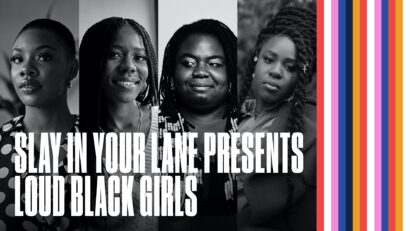 Young Digital Reviewer Elizabeth Gibson finds positivity and a desire for change at Slay in Your Lane Presents Loud Black Girls.
Slay In Your Lane: The Black Girl Bible by Yomi Adegoke and Elizabeth Uviebinené made waves when it was published in 2018, so I am excited to learn more about the newly-published Slay in Your Lane Presents: Loud Black Girls, in which Yomi and Elizabeth have curated essays and writing from a diverse range of voices. Tonight's event brings together the two curators with two of the collection's contributors: singer-songwriter, Nao, and artist and performer, Selina Thompson.
Ellah P. Wakatama leads the event with warmth and passion, inviting each speaker into the discussion by asking who they see as their ancestor. The responses include actual relations as well as cultural figures. I am particularly moved by Yomi's account of how her older sister, through overcoming challenges in her own career as a journalist, helped lead the way for Yomi to carve out a similar path for herself.
Ellah turns the conversation to the new book. Yomi describes, with enthusiasm and pride, how the collection was designed to give voice to the experiences of Black women in the UK. However, she believes people of every demographic will be able to take something from the reading experience. She goes on to say that the world would be much healthier if Black women felt able to be unapologetically themselves and didn't have to deal with the constant mental toll that comes with modifying and restricting their behaviour.
Elizabeth adds the importance of 'Black joy' and self-care; how it can feel imperative to constantly push yourself to be heard and fight injustice, but this is not sustainable unless you also take time out to rest and care for yourself.
Nao then reads from her essay in the book in which she discusses the increase in racism she has seen since Brexit and how this has directly affected people she cares about. However, she also talks about her hope and optimism for the future, as she sees how many young people are engaging in trying to make things better.
Selina Thompson shares sections of her contribution, which is a series of thoughts about turning 30. Selina mentions the misconceptions people can have about millennials and how hard she worked from a young age. She tells us how she sees this next stage in her life as 'laden with possibility'. She wants to focus on making positive change in the world, moving away from the relentless drive for excellence and sense of competition with others that can dominate today's society.
I was already interested in Selina's work, but I have definitely been inspired to discover more of it. I am keen to learn more about all of the panellists and check out the book. The event was really insightful and a great way to spend an evening.
Elizabeth Gibson is a Manchester poet and performer. Her work has been published in The Compass, Confingo, Popshot, Litro and Strix. She won a Northern Writers' Award in 2017 and was shortlisted for the Poetry Business' New Poets Prize in 2018. She has performed at the LGBT Foundation, Manchester Literature Festival, The Poetry Café, and Walk for Women for International Women's Day. She tweets and Instagrams as @Grizonne.