MLF Chapter & Verse
The Manchester Literature Festival Blog
Review: Tori Amos in conservation with Kate Feld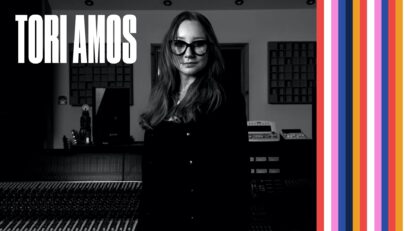 Young Digital Reporter Julia Strawinska finds an artist contemplating the nature of transformation at Tori Amos in conversation with Kate Feld.
Tori Amos speaks from her recording studio in Cornwall. A grand piano and the classic Orange amplifier in the background illustrate her career as the 'singer, songwriter, pianist and composer' who defined the 1990s through her debut solo album Little Earthquakes. Tori's recently released book Resistance: A Songwriter's Story of Hope, Change and Courage invites us into the behind-the-scenes of her music, including her work with 'the muses', growing through failure, transformation and the importance of not giving up, which she talks about in conversation with Kate Feld.
Kate remembers the first time she heard Tori's music as a college student in the United States in the early 90s and points out its distinctive sound and subject matter. She mentions the 'transformative power of the artist', and indeed transformation proves to be central to Tori's creative process. Tori mentions the 'failure' of her early creative work from the 1980s, which eventually let her 'find the type of writer that I was'. 'Not all of us find our writer's soul at the age of sixteen', she adds, and so 'failure can really be a great friend' in the process of transformation.
The 'writer's soul' never 'unlearns magic' for Tori and she cherishes her relationship with 'the Muses'. Tori describes the Muses as the writer's magical source of inspiration, which she can choose to collaborate with and respect through creating work authentic to herself. Tori says, 'you write because you're documenting what you're seeing, and how you're experiencing it', and mentions songwriters she 'always loved' such as Bob Dylan, The Beatles and Sam Cooke who 'were documenting their time through their eyes' and whose songs 'became so important' to her as 'a little girl' in the late 1960s.
When asked about inspirations behind Resistance, Tori names Jane Mayer's powerful Dark Money as her 'bible'. She talks about political issues with passion and sees music as 'powering the conversations that needed to be had'. Tori mentions the importance of the eponymous 'resistance', insisting that 'the most dangerous place you can get to is when you give up'. In her socially and politically aware and passionate spirit, Tori describes her live shows as a 'collaborative process'; 'the audience guides me and the show changes', she says. Her performance reflects what her audience is 'experiencing, feeling and grieving about' in each room and city.
Used to travelling ever since 'playing the piano bars in Washington', during this year's pandemic Tori appreciates finding a sense of peace in the kitchen. She calls the making of the meal with her family 'transformational' too and, with a smile, talks about the beauty of 'sharing experiences'. Change and – in Kate Feld's words – 'the willingness to expand what you are and what you do' is precious to Tori's story. The magically passionate but calm manner, both in the interview and in her book Resistance, offers an insightful perspective on the creative human experience, not only for her fans, but for everyone learning to navigate through these changing and challenging times of transformation.