MLF Chapter & Verse
The Manchester Literature Festival Blog
Spotlight On: Carcanet Press

Continuing our series spotlighting small presses in the North, we spoke to Michael Schmidt, publisher at Manchester based poetry press Carcanet.
When and why did you start Carcanet Press?
My friends and I started Carcanet in 1969 because there were several poets (new and old, UK and from abroad, in English and in translation) whose work we liked and who weren't being taken on by the established publishers. The world back then had many fewer small presses, and the poetry output per annum was much more modest than it is now. Translation was generally neglected. We had excellent translators including Ted Hughes, Michael Hamburger and Elaine Feinstein with work to offer and excellent advice.
Which book from your back catalogue should we all know about?
There is no single book. You should know the Collected Poems of Elizabeth Jennings, Self-Portrait in a Convex Mirror by John Ashbery, Selected Poems by Frank O'Hara, The Wild Iris by Louise Gluck, Subhuman Redneck Poems by Les Murray, The Historian by Eavan Boland, Air Year by Caroline Bird, A Responsibility to Awe by Rebecca Elson… Also our Ethiopian anthology, Songs we learn from trees and our Apocalypse anthology…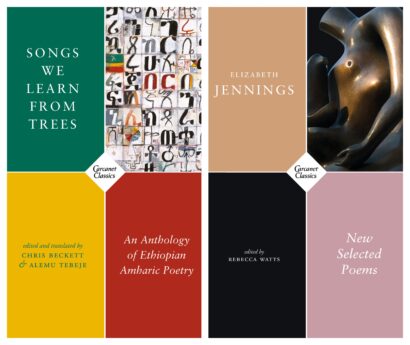 What are you publishing this year?
We have 40 new titles either already published or due between now and December. To choose five key titles from amongst them, Gillian Clarke's radical essays and journal Roots Home; Ned Denny's B (After Dante), a wholly new approach to the Divine Comedy; Lorna Goodison's new collection Mother Muse; Forward Prize winner Parwana Fayyaz's first book, Forty Names, and Louise Gluck's new collection, Winter Recipes from the Collective.
While we wait for live events to start again, are you doing anything in a digital forum that we can join in with?
We have run a series of successful digital launches and events, with Q&As, and we have attracted national and international audiences of between 60 and 200 individuals. You can find out more on our website HERE.
Where can we buy your books?
Carcanet's online bookshop can be found on our website
www.carcanet.co.uk
. Our books can also be ordered through key independent shops, and from Amazon.