MLF Chapter & Verse
The Manchester Literature Festival Blog
Blog #1: A Sensory Tour of Iowa City by Anna Polonyi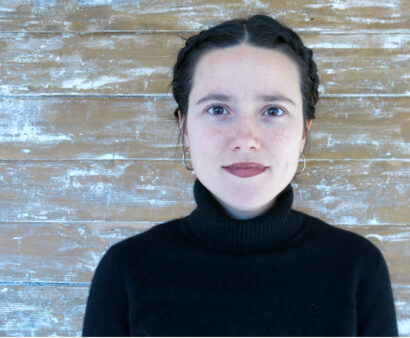 Anna Polonyi is a French-American-Hungarian writer and journalist. She is the author of the poetry chapbook Wayword, written on the Camino de Santiago. Her creative writing has been published by Harvard Advocate, Bastille Magazine, Global Geneva, Two Words For and Belleville Park Pages. She holds an M.F.A in fiction from the Iowa Writers' Workshop and teaches creative writing at the Iowa Young Writers' Studio. She's currently working on a memoir on growing up as a "Third Culture Kid." She was appointed by Manchester Literature Festival and Manchester City of Literature to one of our first Virtual Writer in Residence posts during Manchester Festival of Libraries.
Anna will premiere the work created during her residency in a joint event with our other Virtual Writer in Residence, Alicia Sometimes, during #MLF21 in October. Today, to mark the end of her residency at Central Library, Anna shares a beautiful piece on what it means to be a virtual resident.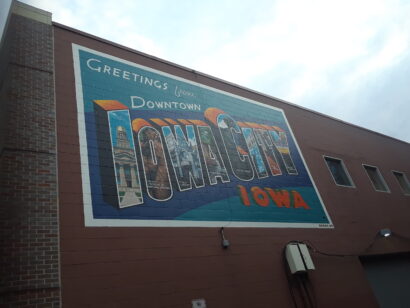 As a virtual writer-in-residence with the Manchester Festival of Libraries, I've been thinking, perhaps unsurprisingly, about what it means to be a virtual resident. The only way I know to answer this question is by asking some more: what does it mean to be "in residence"? Does "virtual" necessarily mean disembodied? Is there a way to be physically present, but at a distance?  
I teach an online fiction course at the Iowa Young Writers' Studio, one of a number of writing programs run out of Iowa City. We've dubbed it Get Dusty!, inspired by the Southern short story writer and all-round brilliant grouch Flannery O'Connor: "The world of the fiction writer is full of matter," she once said in a talk. "Fiction is about everything human and we are made of dust, and if you scorn getting yourself dusty, then you shouldn't write fiction."  
Let's assume for a moment that O'Connor was right, that the world of the fiction writer is full of matter. What happens with this matter if large chunks of our lives are going virtual? Over the last year, as my work and social life migrated online, I started noticing how little I was using some of my senses. Our devices (or Internet Communication Technologies, ICTs, as they are called in jargon) are very good at transmitting visual and auditory experiences. But smell, touch and taste? Not quite there yet.  
An expression I learned from one of the librarians at Central Library is "dwell time", used to refer to the time people spend within the library's walls, browsing or chatting or, say, having a quiet snooze in the periodicals section. What's curious to me is that dwell time is also what we call the time we spend on a webpage. If you look up "where on earth is Iowa City" for instance (no shame in not knowing), the thirty seconds you spend on Wikipedia, before popping back to the search results page, would be your dwell time.  
Whether online or in libraries, it seems like the world is interested in how we're dwelling. And dwelling, as in lingering, staying, is also what being "in residence" is about. So here's a quick dwelling tour of Iowa City, sister UNESCO City of Literature, through the five senses. If you've forgotten where you put some of yours, don't worry, I'll lend you my own. Turns out, if there's one thing writers are meant to be good at, it's grounding an imagined reader in a concrete, sensory world. Which is just another way of saying: being physically present, but at a distance.  
SENSORY TOUR 
There's a particular smell at this time of year in Iowa City, usually around the lawns, public parks, front yards and cook-outs. It's the scent of vanilla. One summer a few decades ago, a grandmother decided she didn't want to put any of those nasty-smelling bug repellents on her five-month-old grandson. She mixed up her

own version

instead. The bug spray is now sold all over the country, but you can recognize Iowa-City dwellers in particular by the whiff of vanilla on their skin.
We call it the golden hour, and picnics are timed to catch that window of time, when the early evening turns a shade of shimmery gold so deep it feel like you could drink it. The artist who seems to have spent the most time obsessing over Iowan skies is

Marvin Cone

, a regionalist painter and contemporary of Grant Wood. If you look at his landscapes, you can get a sense of how quietly dramatic the clouds and sky can be. 
Iowa City is about the farthest you can get from the ocean, but there's a spot where, if you squint, you can pretend you're on a remote island on the Pacific.

The Laysan Island cyclorama

is a small room off the bird wing in the Natural History Museum. Inside, mounted, stuffed gulls blend in with two-dimensional hand painted ones. A previous era's take on what "virtual reality" could mean. Here, you are on Laysan Island, a bird sanctuary in Hawaii. 
Push a button labeled "Tragedy" and a man's voice will fill the room, telling you about the ghost of Max Schlemmer. By introducing rabbits on the island, Schlemmer unwittingly caused the extinction of a rare kind of hummingbird. What does it feel like, to be single-handedly responsible for the disappearance of an entire species?  
The beer at the Fox Head is consistently flat, but this is where the fiction writers from the Iowa Writers' Workshop gather, most Tuesdays of the year, after their weekly class. The poets have their own bar (George's) and their own day of the week (Mondays). The bars are within calling distance of one another, and as far as I can tell, they are very nearly identical. But poets and fiction writers will debate their relative merits again and again: the Fox is cheaper; George's has better music; the Fox has a pool table; George's sells burgers. 
George's is most likely where Joy Harjo, current U.S. Poet Laureate and former Workshop student, met the moon. This, from an early draft of her poem "Remember": 
Remember the sky that you were born under,
know each of the star's stories.
Remember the moon, know who she is. I met her
in a bar once in Iowa City.
Remember the sun's birth at dawn, that is the
strongest point of time. Remember sundown
and the giving away to night. 
The hooting of the freight trains as they rumble through the city can only be heard at night. The tracks cut through the city, and if you live anywhere within walking distance, the sound can be loud enough to wake you. The hoot is mournful, long, wavering, unlike anything I've ever heard, like a something coming at you from a previous century. Iowa City wouldn't exist if it not for the railroad—the Iowa Writers' Workshop is housed in the former home of a railroad magnate—but today, the trains no longer stop here. The last passenger alighted in 1953, and the trains have been carrying fertilizer, molasses, grain and coal ever since. There is a bridge over the tracks with two benches bolted to the ground. This is one of my favorite places in the city: it's a reminder of a time when entertainment consisted of watching a train drive past, very slowly, underneath you.