MLF Chapter & Verse
The Manchester Literature Festival Blog
Spotlight On: Saraband Books

Continuing our series supporting the small press publishers in the Northern Fiction Alliance, we spoke to Sara Hunt, founder of the Salford based Saraband Books.
When and why did you start Saraband Books?
I've always loved books and reading. In 1994 I'd been working in publishing in London and New York for ten years, but often felt frustrated that so many brilliant books by women and various underrepresented voices were not being given a chance. Things fell into place to start up a new publishing house looking beyond those boundaries.
Which book from your back catalogue should we all know about?
If it has to be just one single title, it would be His Bloody Project by Graeme Macrae Burnet, both because it's such an unforgettable, outstanding read, and because it's had so much love around the world. It has been a bestseller in several countries, translated into more than 20 languages, and was shortlisted for the Booker Prize in 2016 and won several other awards.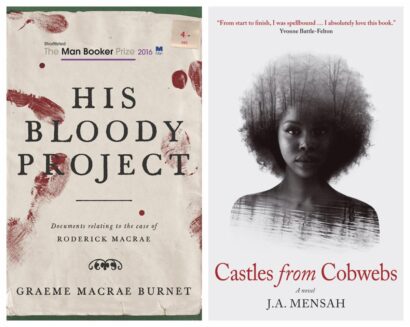 What are you publishing this year?
This is set to be our best ever year. We're starting out with two fantastic debuts: Castles from Cobwebs by JA Mensah, a compelling novel that won our inaugural NorthBound Book Award; and The Mahogany Pod, a wonderful, moving, beautifully written memoir by Jill Hopper. We also have new novels from several award winners: Ewan Morrison's How to Survive Everything, an electrifying thriller set in a pandemic, and satirising current global political issues. In a Veil of Mist is the new one from Paul Torday award-winner Donald S Murray: it's a poignant, evocative novel set in the Outer Hebrides, centred around a true incident during the Cold War. John D Rutter's Approval is our second NorthBound Award winner, an original and brave composite novel. Graeme Macrae Burnet returns with his best work yet, a dazzling literary novel Case Study, due out in October. In nature writing we will publish Stephen Moss's beautiful Skylarks with Rosie, and Jim Crumley's first work in the Lake District, Lakeland Wild. We also have more local history and nature titles, including Laurence Mitchell's Westering and Stan L Abbott's Walking the Line, which explores the Settle-to-Carlisle route. It is a line-up we are truly excited about!
While we wait for live events to start again, are you doing anything in a digital forum that we can join in with?
Absolutely! Sign up to our newsletter and follow us on our socials so you'll hear about all our news and events. But as a taster: our highlights in February include Jill Hopper in conversation with Cathy Rentzenbrink, and Ellah Wakatama Allfrey interviewing JA Mensah as part of her new University of Manchester series, Novel Voices. There are plenty more coming up in March and beyond, including our two contributions to the Northwest libraries festival, featuring our three Brontë authors and Donald Murray. You can also subscribe to our podcast, Cabin Fever Fables: look out for a new series soon. You can catch up with video from our recent events here and keep tabs on news of our new releases.
Where can we buy your books?
We'd love for you to buy them from your local indie bookshop if it's selling online during the pandemic. We can recommend Sam Read Bookshop in Grasmere. We also sell ourselves on
our website
and we encourage people to visit our shop on
Bookshop.org
. But mainly, you can buy our books anywhere or borrow them from a library, and we're grateful for every purchase and loan!