MLF Chapter & Verse
The Manchester Literature Festival Blog
Spotlight on: Valley Press

Continuing our series supporting the small press publishers in the Northern Fiction Alliance, we spoke to Jamie McGarry, founder of the Scarborough based Valley Press.
When and why did you start Valley Press?
I've been putting books together fairly consistently since I was 6 years old – what can I say, it's a vocation! I started using the name "Valley Press" in 2008, taken from the road I lived on at the time (in Scarborough), and what I consider to be the first legitimate VP book was published in 2009.
At that time I was an undergraduate student of English Literature, and a part-time bookseller at Waterstones. I knew I would struggle to get a graduate job that had anything to do with books, so I originally thought I would publish a few titles by local poets to make a nice proactive section on my CV (as well as to share their great writing, of course). In the end, I couldn't secure any graduate employment whatsoever, so I kept publishing as Valley Press until that became a full-time job in its own right – and I've never looked back.
Which book from your back catalogue should we all know about?
 "… and which of your children is your favourite?"
In the interests of keeping the peace with those still walking the earth, I will choose our most recent posthumous publication, 
A Suitable Love Object
 by Rebecca Swift. Founder of The Literary Consultancy, Rebecca (or Becky) was known and adored by a huge portion of the literary world. Her poetry collection has been described as 'beautiful, wry, brimming with intelligence and love' – and comes with a foreword by Michael Ondaatje and an introduction by Kamila Shamsie.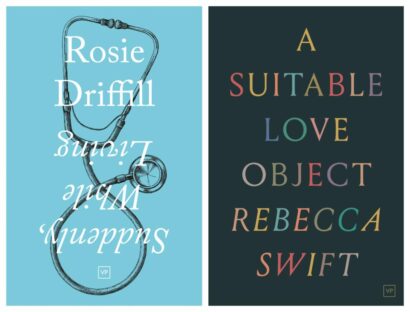 What are you publishing this year?
We are aiming for twenty new titles this year – I would squeeze in one more and do 21 in '21, but that's setting a tough precedent for the coming years! They include Rosie Driffill's laugh-out-loud funny memoir Suddenly, While Living about a debilitating, mystery illness (out now), Jamie Batchan's novel Siphonophorewhere the main character argues with the author throughout (next month), an experimental poetry collection about Ludwig Wittgenstein's experiences on the Eastern Front in WW1 (May), a ground-breaking anthology of eco-poetry (July), short stories from one of China's most successful novelists (autumn), and a 200,000-word novel about the life of Branwell Brontë (late autumn, if it gets edited in time). Oh, and lots more wonderful poetry and fiction too.
While we wait for live events to start again, are you doing anything in a digital forum that we can join in with?
Well, there's this interview – if you'd like to join in, perhaps try reading my answers aloud to your family, and/or politely clapping after each one?
Seriously though, there will be some digital launch events coming up. I've almost got the hang of them now! None are booked just yet though, so your best move is to sign up to our email newsletter on valleypressuk.com and await further instructions.
Where can we buy your books?
In theory, everywhere books are sold, but the best place is
our website
. Subscribers to the newsletter get a permanent 10% discount on every book. Thanks for your support, and thanks for reading!