MLF Chapter & Verse
The Manchester Literature Festival Blog
Story Time Levenshulme: We Need Your Help!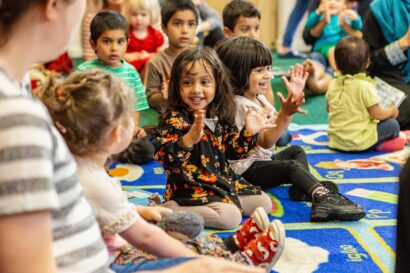 We're thrilled that our Story Time Levenshulme project has been included in the voting to win up to £1500 from the Tesco Community Grants Scheme. Now we need your help!
Any money we receive from the scheme will help fund Story Time Levenshulme: an inclusive story time session, once a month, for pre-school children at Levenshulme Library. Supporting literacy development through storytelling, singing, dancing and craft.
We've had fabulous feedback when we've run these previously: the session today was perfectly timed – beautifully balanced, inclusive and the lady reading was great at bringing all the children into the stories – which was melodic, engaging and just wonderful.
Voting will take place from 12 July 2021 until 30 September 2021 in the following Tesco stores:
Oxford Road Express
Firswood Express
Whalley Range Express
Burnage
Levenshulme Metro
Didsbuy Express
East Didsbury
Didsbury Wilmslow Road Express
To check the location of any of the above stores, please go to the Tesco website here: http://www.tesco.com/store-locator/uk
To vote, you will need to make a purchase within store of any value. You will receive one token per transaction and it's not necessary to purchase a carrier bag in order to receive a token. All you need to do is place the token in the section of the unit designated Manchester Literature Festival's Story Time Levenshulme.
Please spread the word to family, friends and colleagues. We'd love to have the support of the wider community to enable us to carry out this valuable work.